High Substrate Technology for Module Miniaturization
Glass-ceramics are fired under 1000 degrees, therefore Ag, AgPd and Au can be used as co-fired inner conductor.
In addition, the signal delay becomes shorter due to low dielectric constant which is lower than Alumina substrates.
Because thermal expansion coefficient of LTCC is similar to silicon, it is easy to bond die directly to the pad or to be connected flip chip.
Shim parts
The insulating spacer 0.15mmt that is available under the high temperature environment is possible.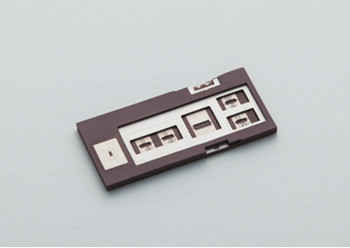 Cavity structure substrates
We have capability for the multistage and multiple application.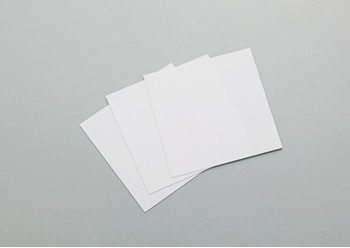 White substrates
White substrates is available for from thin-film circuit to roughness adjusted by polishing.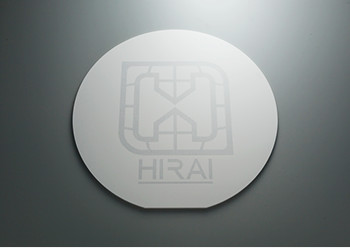 Large size
An inner layer power supply, GND and the signal line inner layer are also available.
Standard Value of Ceramic Process
Item
Standard(Custom)
Layers
Outer Size(mm)
≦120(320)
Total Thickness
Each Layer(mm)
0.05~1.0≦8.0
TOTAL
Total Layers
≦10 (80)
Dev.
X-Y
±0.5%(0.2)
Z
±10%(6)
Warp
10μm/10mm
Roughness(Ra)
0.5μm(As Sintered)
0.03μm(Treatment)
Inner Pattern
Width (mm)
≧0.1(0.05)
Line Spacing (mm)
≧0.1(0.05)
Via
Diameter (mm)
≧0.1(0.08)
Via Spacing (mm)
≧0.1(0.05)
Surface Pattern
Width (mm)
≧0.1(0.05)
Line Spacing (mm)
≧0.1(0.05)
Plating
Ni(μm)
2.0~6.0
Au(μm)
0.1~0.5
Manufacturing Process of LTCC Substrate

2

Fill the paste in VIA hall





7

Electroless Nickel plating and gold plating